Robert ("Dima") Daley 4.75⭐️P : Punter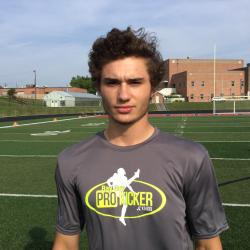 Punter
Class of 2019 / South Carolina
Measurables
Height: 6 feet 5 1/2 inches
Weight: 220 lbs.
Athletic Accomplishments
Career Overview
Dima was the top Punter in SCISA in 2017 as a Junior. He punted 31 times, averaging 38.3 yards per punt. He had a long punt of 59 yards and 11 punts within the 20 yard line. As a Senior, Dima was the top punter in SCISA even though most of his time as an All-State defensive end who lead the Columbia/Midlands area with 12 sacks. He was selected to play the Metro Bowl. In his Senor year, he averaged over 37 years a punt.