National & International Football Kicking Rankings

National and International Ranking Camps for Kickers, Punters, and Long Snappers
Kickers, Punters, and Long Snappers have the opportunity to chart their performance during any national or international event to improve their individual ranking!
Scholarship Ranking Camps for Kicking, Punting, and Long Snapping Recruitment
The Ray Guy | Prokicker.com Kicking, Punting and Long Snapping Camps are the most comprehensive instructional camps in American Football. These camps truly provide a national and international competitive platform for kickers, punters, and long snappers to develop their skills and earn recognition from college coaches for recruitment. The strategic placement of training camps in every major United States geographical region provides kickers, punters, and long snappers the opportunity to compete with athletes from anywhere in the world for walk-on recruitment and scholarship opportunities. Regardless of level of competition, athletes who are eligible have a timely advantage to learn and compete on an "equal playing field" throughout the entire winter, spring and summer months!
Earning a scholarship in today's highly competitive recruiting market it is extremely challenging - especially right out of high school. It's actually considered to be quite an honor to even be recruited as a walk-on. Athletes simply need an innovative way to distinguish themselves, promote their ability, and be found by the college recruiters. There are over 15,000 high school football teams in the US (along with a growing number of eligible international athletes) compared to only a few hundred colleges that even offer football scholarships. And even fewer programs that truly have a need for a kicker, punter, or long snapper in a given year.
The Ray Guy | Prokicker.com Kicking, Punting and Long Snapping camps annually provides over 40 training locations in cities all across the United States allowing more athletes an opportunity to develop their individual technique and promote their athletic skills. This instructional format does more than maximize participation on the national and international level; it enables a true measure of talent by canvassing talent worldwide and identifying the most credible prospects in football. Individual performances will simply gain more attention and prestige by truly competing with the finest athletes competing in American Football.
At every training site each athlete receives one-on-one attention allowing him to develop his very own personal style. Throughout the entire instructional process athletes are continually evaluated and charted to enhance skill development as well as to establish individual progress. At the conclusion of each camp session or training event the most recent statistical information is entered into an innovative database which identifies the rankings for that scheduled day and also updates the national rankings. This allows immediate internet access to a listing of the top ranked players at their position level and the most current information available on their performance capabilities.
...the most comprehensive listing of credible kicking, punting and long snapping prospects...
This same process allows the rankings to evolve chronologically throughout the entire camp season by continually elevating the best performers to the top of the state, regional, and national ranking list. The national competition culminates at the conclusion of the last instructional session of the summer. The final national and international ranking by position is then determined as well as the introduction of the most comprehensive football recruiting list of its kind!
PROKICKER.COM STAR RATING
5-star Player: projected as one of the top college prospects (Top 25) in the country. This player has superior athletic skills and will rank high or compete for top honors at any camp or showcase they attend. They have demonstrated the capability to immediately compete for a starting position in college as well as make an early impact in their team's success. This elite level high school player should be on the "radar" of college coaches as a full scholarship candidate or a preferred walk-on candidate (at the very least).
4-star Player: a high school junior (or younger) projected as a college prospect "on the rise." This player has demonstrated the capability to play college football and has the physical tools to develop into a 5-star athlete before or during their senior year in high school. If this player continues to mature and increase their ranking, it is projected they can eventually compete for a college scholarship.
3-star Player: generally, a high school sophomore (or younger) who displays the potential to become a college prospect at an early age (or stage) in their career. This player has ranked extremely well in their grade level allowing their skills to stand-out above the rest.
Note:

½ stars are assigned to 3-star and 4-star athletes when they are about to earn the next highest level rating.
At anytime throughout the entire camp season athletes can take advantage of the ranking process by participating at multiple locations to "raise the bar" and improve their ranked position. There are also designated city areas that can provide charting/ranking opportunities year-round through private instruction sessions: Chattanooga, TN; Chicago, IL; Nashville, TN; New Orleans, LA; Lexington KY; Louisville, KY, Columbus, OH. Other locations may be available. Please contact our office at 606.922.8482.
Once scores are recorded and displayed they can only go up. This simply means only their best performance will be ranked. This will provide each player the opportunity to continually develop their skills, enable them to perform at the most optimum level, and at the same time produce the most current information available on their performance capabilities.
Private kicking lessons / kicking instruction and private long snapping lessons / long snapping instruction sessions are scheduled in one and two hour segments on a first come, first served basis. Please link through to our
locations and schedules
to find a kicking, punting, and long snapping instuction site nearest you. To reserve your slot just contact our office (606) 922.8482 today!
Note: You must have adobe Acrobat Reader to view the above brochures.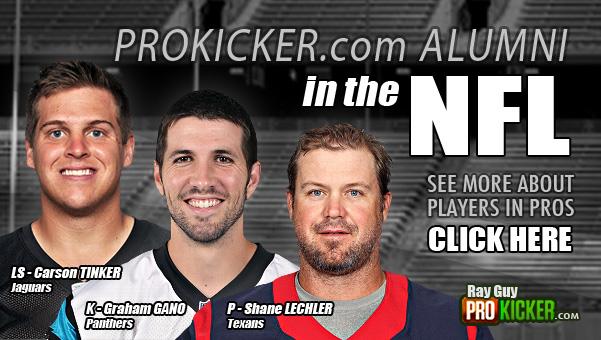 Current Leaderboard
National Championship