International "Top Prospect" Search for Kickers, Punters, and Long Snappers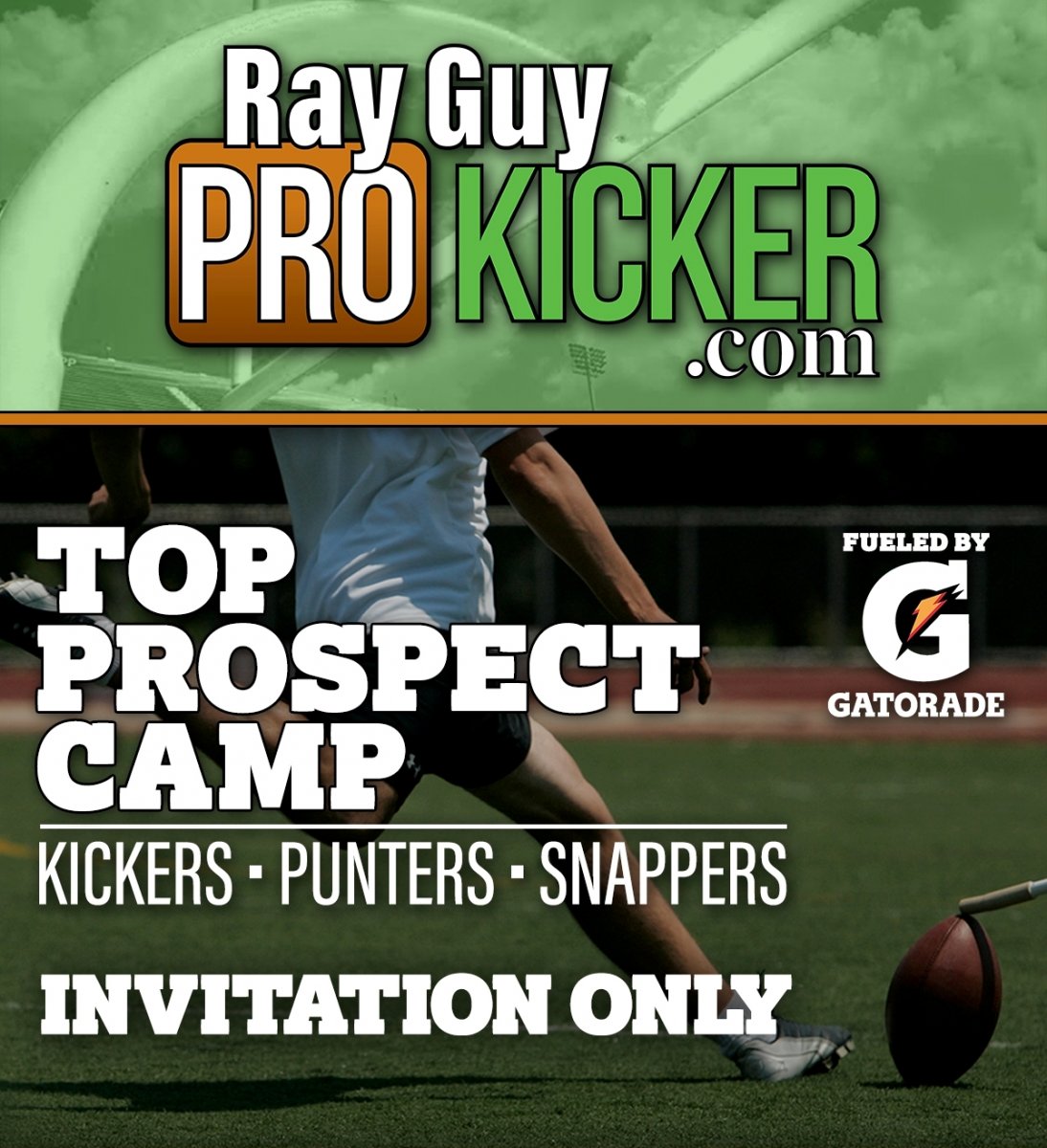 Ray Guy Prokicker.com Top Prospect Award program
2018 Ray Guy Top Prospect Camp - July 14-15 - Richmond, Kentucky
Our
Top Prospect Award
program is a "behind the scenes" evaluation that takes place throughout the entire instructional process at every Ray Guy/Prokicker.com Kicking Camp event. Each participant is involved in this process and no one knows it is taking place. This way, we can focus our attention on every athlete and give them the "personal" attention and guidance they deserve. The
Top Prospect Award Camp
is for serious student-athletes seeking collegiate opportunities,
and
is primarily for high school juniors and seniors, although, on occasions, we may include younger athletes who demonstrate a natural ability at an early stage of their career. Individual performance and ranking comparisons at each grade level is very important in determining who receives an invitation.
VIEW LIST OF TOP PROSPECTS
Previous Ray Guy Prokicker.com Top Prospects include current NFL Kickers: Graham Gano - Carolina Panthers, Connor Barth - Chicago Bears, Randy Bullock - Cincinnati Bengals, Blair Walsh - Seattle Seahawks, Chandler Cantanzaro - New York Jets, Brandon McManus - Denver Broncos, Harrison Butker - Kansas City Chiefs. Including current NFL Punters: Kevin Huber - Cincinnati Bengals, Jeff Locke - Minnesota Vikings, Jordan Berry - Pittsburgh Steelers, Drew Butler - Arizona Cardinals, Donnie Jones - Philadelphia Eagles, Kasey Redfern - Detroit Lions and Bradley Pinion - San Francisco 49ers. Along with NFL Long Snappers: Carson Tinker - Jacksonville Jaguars, Matt Overton - Indianapolis Colts, Kevin McDermott - Minnesota Vikings and Justin Drescher - New Orleans Saints.
Since every athlete's progression is charted throughout each Ray Guy Prokicker.com Camp event, we are able to recognize, very easily, the athletes that will become the newest members of our
Top Prospect Award
list. Hang time and distance on punts and kickoffs; height, accuracy and distance on placement kicks; and accuracy and timing on long snaps are obvious identifiers of natural talent. This evaluation process enables us to effectively "sort out" the top prospects and identify each athletes "capability." An important aspect that allows the athlete to show at any time his ability to consistently kick, punt or snap as if he were already in college. By displaying this type of performance any kicker, punter or snapper can greatly increase the likelihood of earning a spot on our list.
Register Now for Top Prospect Camp.

For over 20 years, college football coaches and recruiters across the country have relied on us to share with them the names of top kicking, punting and long snapping prospects. We provide information directly to them through our national mailing as well as through immediate posting on our website. They are confident knowing we will see "in person" athletes who are ready and further preparing themselves for the next level.

It's all about credibility. Athletes named to this exclusive list, will appreciate the accomplishment more by knowing they have "earned it". Most importantly, college coaches and recruiters know that each name listed tells the story of an athlete who is very deserving as well as one who has taken the initiative to continuously improve their skills.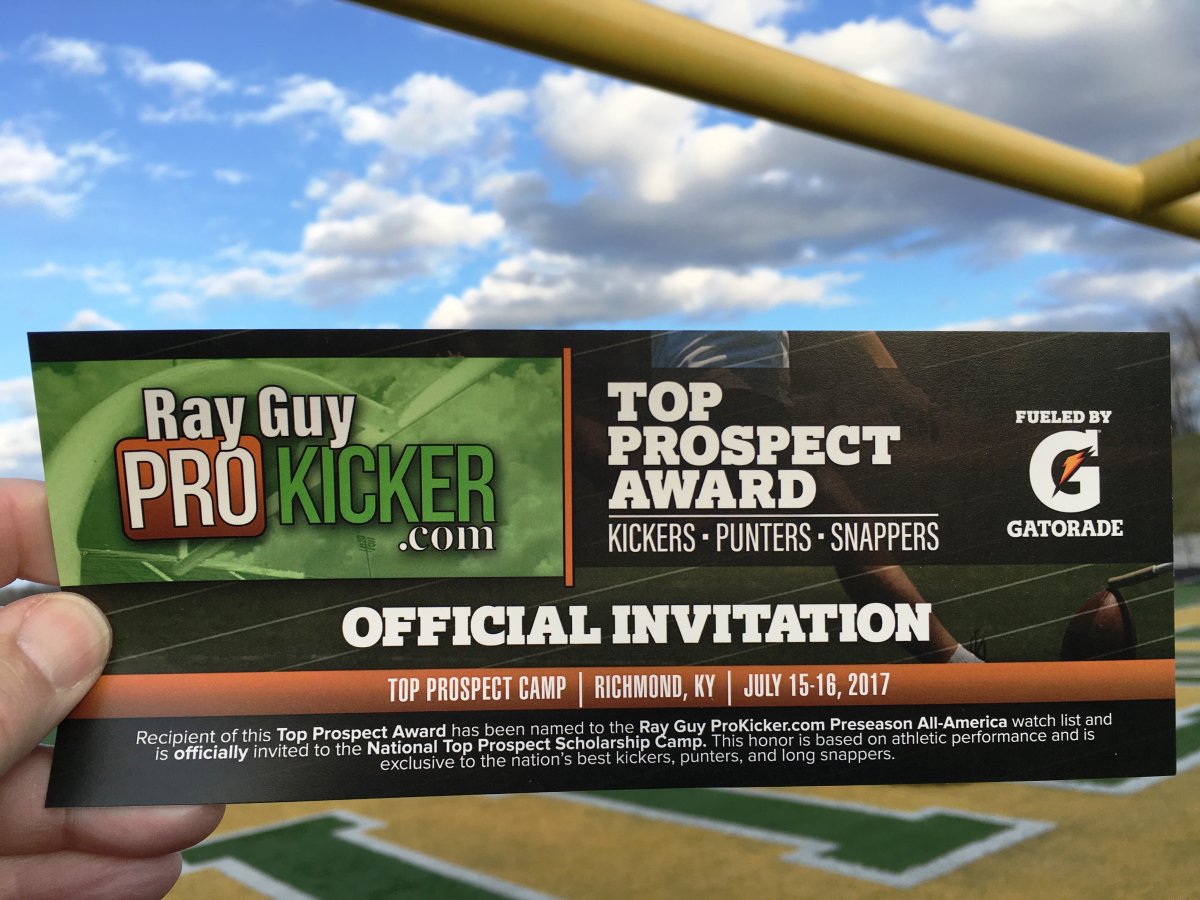 Top Prospect Scholarship Camp enrollment is by "Invitation Only" and is exclusive to Kickers, Punters and Snappers earning the Ray Guy Top Prospect Award recogniton. This honor is determined through participation in Prokicker.com and Prokick Australia (International Partner) camps, private lessons, along with recommendations by national (& international) recruiters and high school coaches. Award recipients participating on U.S. high school football teams are also included on the Ray Guy Pre-season All-America Watch List.
program includes:
ACTION PHOTOS / PROMO SHOTS
THREE SKILL CHARTING SESSIONS
COMPETITIONS
PERFORMANCE VIDEO OPTION ($100)
NCAA ELIGIBILITY CLINIC
COLLEGE RECRUITING CLINIC
FREE WEB PAGE ($200 value)
SCHOLARSHIP MARKETING