Prokicker.com Expanded Recruiting Webpage
Kickers, punters and long snappers can share their game "highlights" to college coaches and immediately open the door to scholarship opportunities! [$250]
Personal Profile Development
Each athlete who attends a Prokicker.com camp receives a profile page that includes a headshot, year of graduation, measurables, and their school location. By purchasing an Expandable Recruiting Webpage, athletes can quickly enhance their personal profile by transitioning to an individual marketing webpage. This will maximize recruiting exposure by allowing college coaches and recruiters immediate access to highlight (Hudl) video links, YouTube videos, performance photos, team related statistics and accomplishments.
Immediate Recruiting Access
Prokicker.com...one of the most visible kicking, punting and long snapping websites on the internet, provides
immediate access to state, regional and national rankings. This enables college coaches and recruiters to find athletes and link directly to individual webpages... accessing
valuable recruiting and scholarship information.
NOTE: Any information regarding other kicking camps (or related organizations) in competition with Prokicker.com is not allowed.
Ray Guy Top Prospect Recognition
Expanded Recruiting Webpages provide Ray Guy Prokicker.com Top Prospects additional recognition by displaying their award "badge" underneath their profile photo. Prokicker.com staff will also be available to assist with loading YouTube videos, Hudl links and photos. YouTube videos will display. Hudl links only are allowed on the webpage. Those choosing the performance video option filmed during the Ray Guy Top Prospect camp can also have those videos displayed on the expanded webpage.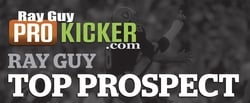 Scholarship Marketing to Colleges
Prokicker.com Recruiting is a leading source for college football recruiting and scholarship information for kickers, punters and long snappers. Our innovative national ranking system and recruiting tools have helped football coaches identify top prospects since 2001. Our knowledge of the college football recruiting process allows student-athletes to maximize their scholarship opportunities and find the school that is best for them.
This is a great opportunity for athletes to connect with college coaches, promote their best skill performances and open the door to scholarship opportunities!