Academy Curriculum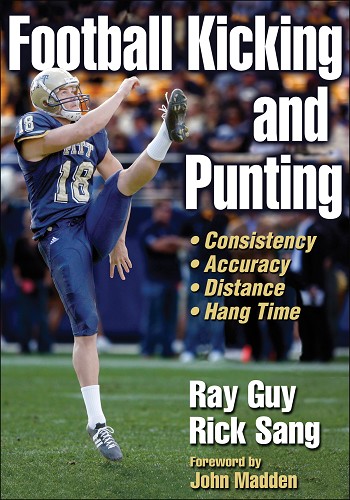 Ray Guy and Rick Sang provide crucial information for the "Special Teams" player - no matter what skill level. They have developed numerous specialists at every level of the game including high school, college and the NFL. Not only do they teach the technical skills - they teach the much needed mental skills that will give every athlete a competitive advantage. This book is a great instructional tool for players, coaches, and even parents!
-Coach Bob Ligashesky
Special Teams Coach
Pittsburgh Steelers
Super Bowl XLIII Champions
"Ray Guy has proven he is the best punter in history. Any athlete who takes the initiative to learn about him can share in his success. By reading Football Kicking and Punting, you now have that opportunity."
-John Madden
Pro Football
Hall of Fame Inductee

"In Football Kicking and Punting, Ray Guy and Rick Sang explain the skills, techniques and strategies to improve field position, increase accuracy, and put more points on the board. This book will make the differnce between winning and losing football games."
-Shane Lechler
Oakland Raiders
Pro-Bowl Punter

"This is the most comprehensive kicking and punting book that exists. It identifies the common techniques of successful specialists and proves there is more than one way to kick a football. This innovative guide will greatly benefit beginners to professionals!"
-Jonathan Ruffin
Lou Groza Award Winner
Walter Camp All-American
Huddle up with one of the greatest players in football history as he shares the techniques, strategies, and secrets of kicking, punting, and long snapping.
In Football Kicking and Punting, NFL 75th Anniversary Team member Ray Guy joins Prokicker.com director and veteran kicking coach Rick Sang to provide aspiring kickers and punters with expert instruction found nowhere else. From the fundamentals to advanced strategies, it's all here:
In addition, Guy and Sang share their personal strategies for adapting and compensating for challenging field and weather conditions, specific game situations, and an opponent's strengths and weaknesses.
So whether it's pinning your opponent inside the 20 or drilling that last-second kick through the uprights, let Football Kicking and Punting elevate your play and ensure winning performance
Field goals, extra points, punts, snapping, holding and special plays such as onside kicks, corner punts, and squib kicks
46 proven drills to maximize practice time and ensure improvement in distance, hang time, consistency, and accuracy
Specialized warm-ups and conditioning programs to improve flexibility, increase leg strength, and prevent injury
Game strategy preparation, including opponent
assessment and defense recognition