Academy Leadership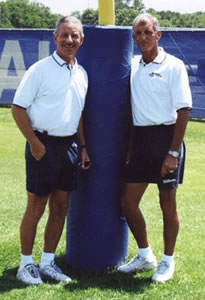 Left to right: Academy Co-Founder & Director Rick Sang, NFL All-Time Team Punter Ray Guy
Expect Outstanding Instruction
Committed to providing athletes the best learning opportunities available, Ray Guy and Rick Sang of American Football Specialists bring you the most comprehensive kicking program of its kind. They combine proven techniques with innovative learning concepts to help you get immediate results. Their unique "step-by-step" teaching method enables you to learn quickly and remember the sound training and biomechanical principles that will most effectively guide you throughout your career. And that's not all! Through their "positive" teaching approach you will improve your mental discipline as well as your physical skills. Learn visualization and goal-setting methods designed to build confidence and self-esteem not only in athletics but also in every day life.
The Academy has assembled some of the most sought after teaching professionals in football. Each are highly skilled in communicating the sound techniques and fundamentals necessary for you to reach your maximum potential. Rick Sang, Director of Ray Guy Prokicker.com is a veteran with over 35 years experience establishing kicking instructional programs at colleges and universities across the country.
A former college coach, his credentials include membership on both Eastern Kentucky University NCAA Division 1AA National Championship teams (1979 Punter / Receiver, 1982 - Kicking Coach) and as Kicking Coach for Arizona State's 1986-87 PAC-10, Rose Bowl and Freedom Bowl Championship teams. Join the rest of the Ray Guy Prokicker.com kicking specialists this summer to increase your scholarship, recruiting and professional opportunities!
"Being prepared is the key to winning that starting position, earning a college scholarship or ultimately playing professionally. That is why our main objective with every Ray Guy Prokicker.com Kicking Camp event is to provide every participant focused "individualized" instruction allowing each athlete to develop their own "natural" style. Even though there are basic, easy to understand guidelines to follow when developing kicking, punting and snapping skills, not all athletes kick, punt or snap the same way. We help every athlete understand not only where "their skill" needs improvement but also what they are doing naturally that is already correct. This way, athletes learn at a much faster pace allowing them to accomplish our program goal of "learning how to coach themselves." - Rick Sang, Ray Guy Prokicker.com Camps Director