Player Profiles
View All Profiles

Bradley Robbins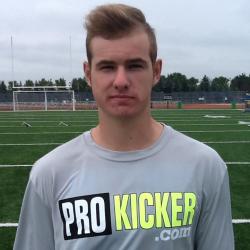 Measurables
Height: 6'2
Weight: 180
Athletic Accomplishments
All Central District Punter as a sophomore.
All Conference Baseball as a sophomore.
All Conference Soccer as a junior.
All Conference Punter Junior.
4 Sport Athlete.
Kicker / Punter
Class of 2017:
Career Overview
Bradley Robbins of Worthington Christian is the #1 Ranked high school Punter in the state Ohio for Class of 2017. His average charted punting distance: 41.0 yards and his average hang time was charted at 4.36 seconds. His best hang time recorded was an NFL caliber 5.0!
"Bradley Robbins ranks as the best high school punter in the state of Ohio. Going into his senior year he has already recorded a 5.0 hang time- which is a great hang time even using NFL standards! He is definitely a top college prospect for 2017!
– Rick Sang, Director – Ray Guy Prokicker.com Camps